入荷お知らせメールについてのご注意
当サービスはご購入を約束するものではありません。
お知らせメールにご登録いただいても生産の都合によりご登録の商品の販売が中止となる場合がございます。予めご了承ください。
Description
Details
Fabrics & Care
Size Guide
Short coat with a new combination of a unique textured look with a luxurious volume of wool boa.

The wool linen with a unique texture used for the body is woven with special yarns to create a primitive texture with a luxurious air.
The wool boa trimming on the collar, lapels, and seams is upcycled from wool that would normally have been discarded due to dirt, and while maintaining a pure texture without dyeing, its luxury and modern volume give it a unique character which cannot be found anywhere else.

Details interpreted with AKIRANAKA's unique balance bring a sharp impression to a boa coat that tends to be overly naive, and the attention to detail is pursued in the chin tab made of high-quality synthetic leather and the application of warming padding between the outer and lining fabrics.

The roomy, oversized silhouette is well balanced when coordinated with leaner silhouette items, adding a luxe air and strong personality to everyday style.
Oversized fit
Double-breasted
left and right pockets
With leather chin strap
With waist belt
Lined
Style ID:AW2322-BK
Made in Japan
Wearing Model Heigt:176cm /Wearing Model Size:モデルサイズ
Body Wool46% , Linen35%, Nylon11% , Cotton8%、Lining Cupra100%、Voa(Top/Base) Wool100%/Acrylic56% , Polyester42% , Polyurethane2%、Tab Synthetic leather
-Transparency
No transparency
-Thickness of fabric
Thick
<About Care>

Do not wash at home
Do not use chlorine bleach and oxygen bleach
Do not tumble dry

Can be ironed without steam with a bottom temperature of up to 110°C
Can be dry cleaned gently with petroleum solvents (use a laundry net)
Do not wet clean
PRODUCT MESUREMENTS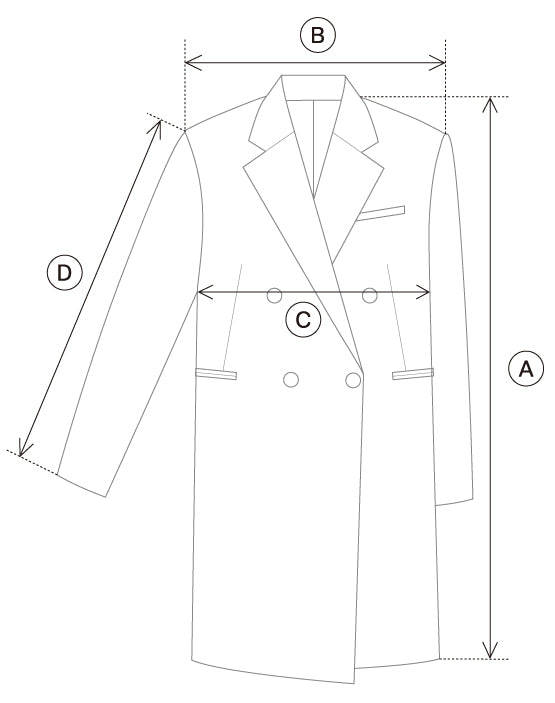 | | | | | |
| --- | --- | --- | --- | --- |
| | A | B | C | D |
| 1 | 66.2cm | 54.5cm | 66.5cm | 57.4cm |
| 2 | 67.7cm | 55.5cm | 68cm | 58.4cm |
SIZE CHART
| | | | | |
| --- | --- | --- | --- | --- |
| Size | 1 | 2 | 3 | 4 |
| Japan | Women S | Women M | Women L | Women XL |
| Inter | Women XS | Women S | Women M | Women L |
BLACK