入荷お知らせメールについてのご注意
当サービスはご購入を約束するものではありません。
お知らせメールにご登録いただいても生産の都合によりご登録の商品の販売が中止となる場合がございます。予めご了承ください。
Description
Details
Fabrics & Care
Size Guide
Flared wide pants featuring front pocket detail and fresh silhouette.

The pants are minimal in design, but with attention to detail throughout, with a silhouette that gently expands from the waist, drawing fresh lines not seen in AKIRANAKA pants to date.
In addition, the pockets on the front are detailed in such a way that they are partially hidden in the tucks of the pants, adding individuality as a subtle essence.

The material used is wool, which has a supple texture and a luxurious mood, leading to an intellectually mature appearance, and at the same time, it can be worn with casual items to produce a feminine elegance.

These pants, with their sophisticated tailoring and modern air, will not only update everyday style by adding them to wardrobe, but also give the wearer confidence and a strong attitude.
Natural fit , Wide silhouett
Front and Back pockets
Long-length
Lined
Style ID:AW2344-KH
Made in Japan
Wearing Model Heigt:176cm /Wearing Model Size:モデルサイズ
Main fabric Wool98% , Polyurethane2%、Linging Cupra100%
-Transparency
No transparency
-Thickness of fabric
Normal
<About Care>

Do not wash at home
Do not use chlorine bleach and oxygen bleach
Do not tumble dry

Can be ironed without steam with a bottom temperature of up to 110°C
Can be dry cleaned gently with petroleum solvents (use a laundry net)
Do not wet clean
PRODUCT MESUREMENTS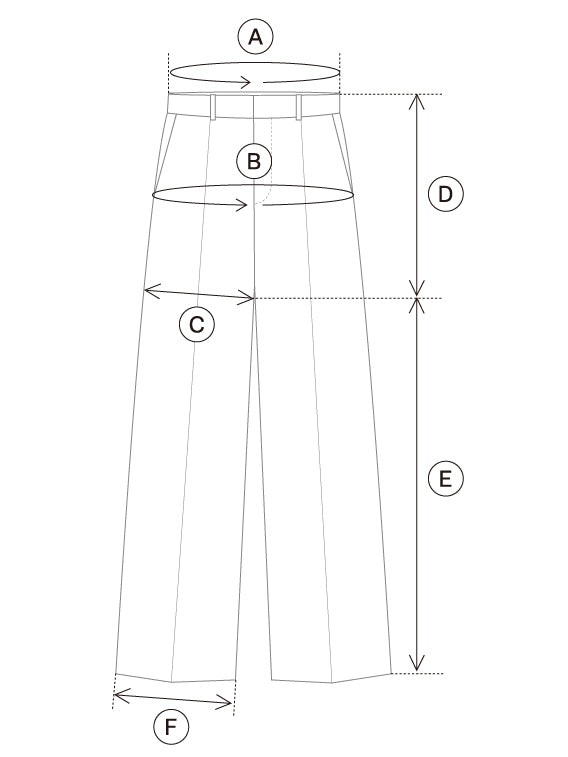 | | | | | | | |
| --- | --- | --- | --- | --- | --- | --- |
| | A | B | C | D | E | F |
| 1 | 69cm | 94.8cm | 35.4cm | 26.5cm | 73.1cm | 38.9cm |
| 2 | 73cm | 98.8cm | 36.7cm | 27cm | 75.6cm | 40.2cm |
SIZE CHART
| | | | | |
| --- | --- | --- | --- | --- |
| Size | 1 | 2 | 3 | 4 |
| Japan | Women S | Women M | Women L | Women XL |
| Inter | Women XS | Women S | Women M | Women L |
KHAKI