入荷お知らせメールについてのご注意
当サービスはご購入を約束するものではありません。
お知らせメールにご登録いただいても生産の都合によりご登録の商品の販売が中止となる場合がございます。予めご了承ください。
Description
Details
Fabrics & Care
Size Guide
An original cutting produces a modern balance in this collarless shirt.

This season, we have taken a fresh look at what we are losing from the perspective of "memory and oblivion / existence and absence / loss of identity (ID)" as captured in the creative work of artist Christian Boltanski, and have attempted to express "lingering memories in absence" and "existence in oblivion" as a question of it.

The frame-like transition running from the sleeves to the body depicts the joining of different sized shirts on the outside and inside of the seam, expressing the loss of the respective IDs of the two types of shirts and their transformation into a new ID derived by combining them.
The context is embodied by the armholes in different positions and the cuff details folded up to combine sleeves of different lengths, producing a new and unique form and modern balance.

The material is made of linen cotton that has both a unique texture and firmness, giving it a natural feel that is comfortable against the skin, yet retains its form beautifully.

A piece with this season's atmosphere gives an adult woman's outfit a certain individuality and an intellectual mood in daily wardrobe.
Style ID:AR2410-BK
Made in Japan
Wearing Model Heigt:176cm /Wearing Model Size:2
Body Cotton95%,Linen3%,Ramie2%
<About Care>

Do not wash at home
Do not use chlorine bleach and oxygen bleach
Do not tumble dry

Can be ironed without steam with a bottom temperature of up to 110°C
Can be dry cleaned gently with petroleum solvents (use a laundry net)
Do not wet clean
PRODUCT MESUREMENTS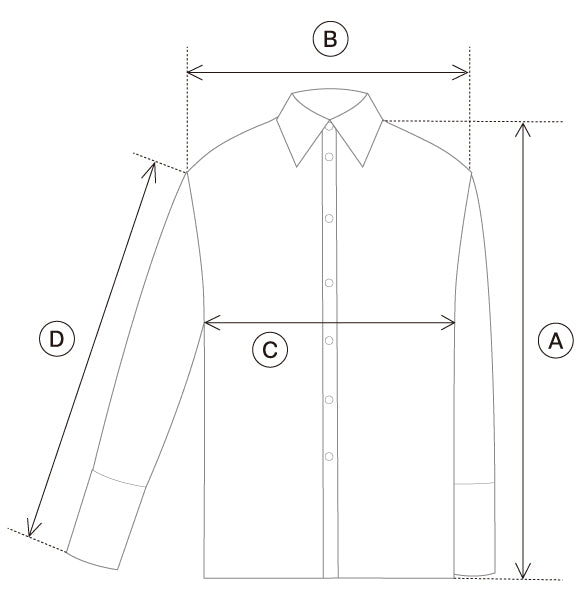 | | | | | |
| --- | --- | --- | --- | --- |
| | A | B | C | D |
| 2 | 61cm | 70.7cm | 47.6cm | 45.6cm |
SIZE CHART
| | | | | |
| --- | --- | --- | --- | --- |
| Size | 1 | 2 | 3 | 4 |
| Japan | Women S | Women M | Women L | Women XL |
| Inter | Women XS | Women S | Women M | Women L |
BLACK