入荷お知らせメールについてのご注意
当サービスはご購入を約束するものではありません。
お知らせメールにご登録いただいても生産の都合によりご登録の商品の販売が中止となる場合がございます。予めご了承ください。
Description
Details
Fabrics & Care
Size Guide
Straight denim pants with an impressively beautiful silhouette that cannot be found anywere else.

The sharply tailored straight denim is the result of AKIRANAKA's commitment to its signature cutting.
The straight line is designed not only to make the legs look slender and long, but also to wrap beautifully around the waist and hips, sublimating it into a piece of elegance for mature women.

In addition, the asymmetrical darts on the front pockets, which are applied in a minimal silhouette, are subtly accented and give the garment a new modernity.

Denim pants tend to give a casual impression, but the clean, clear silhouette creates an intellectual atmosphere, giving them a dignified, adult appearance in daily wardrobe.
Natural fit , Straight silhouett
Long-length
Front and Back pockets
Unlined
Style ID:AW2358-BL
Made in Japan
Wearing Model Heigt:176cm /Wearing Model Size:モデルサイズ
Main fabric Cotton100%、Patch Cow leather
-Transparency
No transparency
-Thickness of fabric
Normal
<About Care>

Warm wash (water temperature 104 F or lower), and can be hand washed (use a laundry net)
Do not use chlorine bleach and oxygen bleach
Do not tumble dry

Line dry in the shade

Can be ironed without steam with a bottom temperature of up to 110°C
Can be dry cleaned gently with petroleum solvents (use a laundry net)

Can be wet cleaned with the gentle operation
PRODUCT MESUREMENTS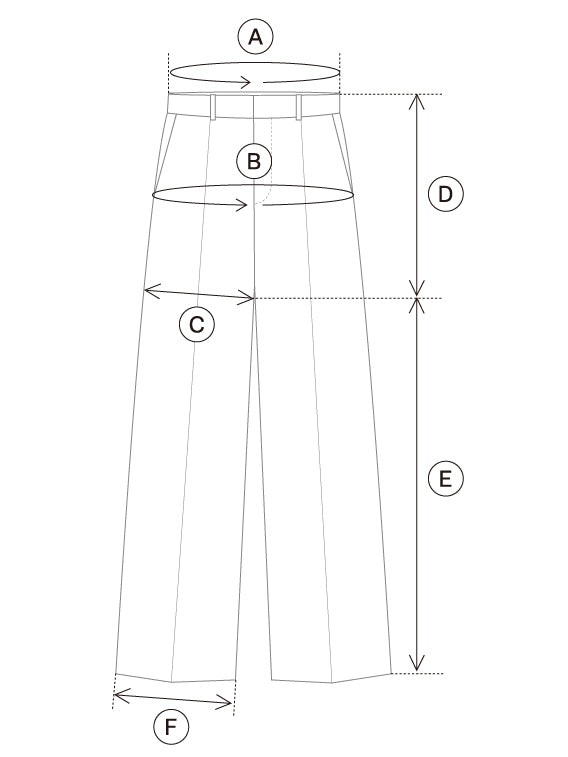 | | | | | | | |
| --- | --- | --- | --- | --- | --- | --- |
| | A | B | C | D | E | F |
| 1 | 70cm | 89.9cm | 30.7cm | 27cm | 75.6cm | 21.9cm |
| 2 | 74cm | 93.9cm | 32cm | 27.5cm | 78.1cm | 23.2cm |
| 3 | 78cm | 97.9cm | 33.3cm | 28cm | 82.1cm | 24.5cm |
SIZE CHART
| | | | | |
| --- | --- | --- | --- | --- |
| Size | 1 | 2 | 3 | 4 |
| Japan | Women S | Women M | Women L | Women XL |
| Inter | Women XS | Women S | Women M | Women L |
BLUE