入荷お知らせメールについてのご注意
当サービスはご購入を約束するものではありません。
お知らせメールにご登録いただいても生産の都合によりご登録の商品の販売が中止となる場合がございます。予めご了承ください。
Description
Details
Fabrics & Care
Size Guide
This colorless jacket shows a new individuality with its dart details and cut lines on the front, born from a primitive approach.

This season's theme, "Idea at 3 a.m.," was developed from the perspective of "the embodiment of essence, not just visual capture," which was inspired by the work of the Romanian sculptor Constantin Brancusi, into an approach of "how to interpret and express the essence of things."
Wondering how our designs could approach the essence of "women" through fashion, if there is an "idea" in clothing design, as his works gave birth to a new value beyond the general idea of society, we pursued how we can be apart from there to sublime it into a new value.

The dart detail, which produces the chest bulge by the primitive method of "cutting in" away from the conventional clothing modeling principle, creates a three-dimensional effect by buttoning the front edge extended from the body to overlap, while completing a cut line that has the impression like the shadow of a lapel.
In addition, the "swing" of the sleeves of the jacket also adds a new nuance by adding a further curve from the wrist, where normally a gentle curve is drawn from the elbow to the front, and the attention to details, such as designing a line that beautifully follows the neck with a delicate seam around the collar, etc., is carried in every detail.

By using the luxurious texture of the wool material, this jacket has been completed with an esprit that a mature woman would wear.

The jacket, which is full of this season's air, not only directs a completely new elegance with its highly original details and beautiful shape that wraps around the body, but also gives a rich uplifting feeling to the wearer's mind.
Boxy fit
Single -breasted
Left and right single-piping pockets
Lined
Style ID:AP2308-PU
Made in Japan
Wearing Model Heigt:175cm /Wearing Model Size:モデルサイズ
Main fabric Wool100%、Linging Cupra100%
-Transparency
No Transparency
-Thickness of fabric
Normal
<About Care>

Do not wash at home
Do not use chlorine bleach and oxygen bleach
Do not tumble dry

Can be ironed without steam with a bottom temperature of up to 110°C
Can be dry cleaned gently with petroleum solvents (use a laundry net)
Do not wet clean
PRODUCT MESUREMENTS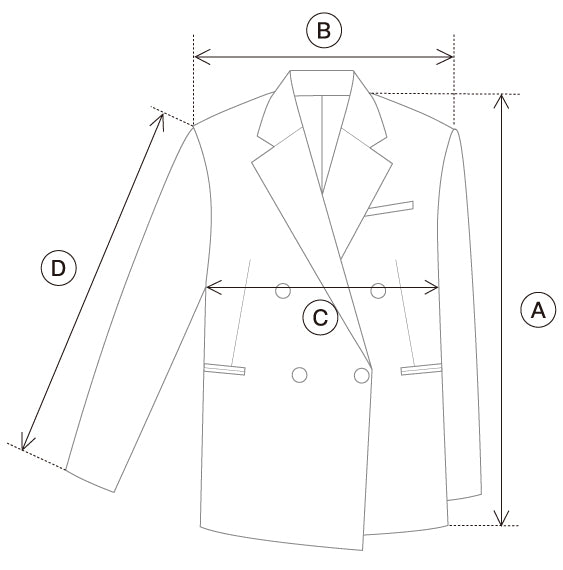 | | | | | |
| --- | --- | --- | --- | --- |
| | A | B | C | D |
| 1 | 65cm | 43.7cm | 46.1cm | 61.1cm |
| 2 | 66.5cm | 44.7cm | 47.6cm | 62.1cm |
SIZE CHART
| | | | | |
| --- | --- | --- | --- | --- |
| Size | 1 | 2 | 3 | 4 |
| Japan | Women S | Women M | Women L | Women XL |
| Inter | Women XS | Women S | Women M | Women L |
PURPLE