入荷お知らせメールについてのご注意
当サービスはご購入を約束するものではありません。
お知らせメールにご登録いただいても生産の都合によりご登録の商品の販売が中止となる場合がございます。予めご了承ください。
Description
Details
Fabrics & Care
Size Guide
Cocoon coat with a unique form of finely pre-tilted sleeves.

This season's theme, "SLEEPING MUSE," was developed from the "coexistence of antiquity and futurism" and "purification of essence" found in the work of Romanian sculptor Constantin Brancusi.
The new design incorporates a somewhat futuristic (modern) air that can be felt in ancient (primitive) expressions, while at the same time expressing a minimalism that we have derived by sharpening the essence (elegance) of fashion as we perceived it.

This coat is made of wool with a fine texture and bounce, as its details were stripped down to the extreme, expressing the minimal and fresh form in a couture-like manner.

The modern balance is achieved by incorporating new gimmicks, such as the swinging sleeves that are deliberately attached at a forward tilt and foundations made of tulle and darts that create a rounded back silhouette.

The coat that symbolizes this season's theme not only completes the appearance of a sophisticated woman, but also enriches the creativity and attitude of the wearer.
Oversized, boxy fit , Cocoon silhouette
Middle-length
Left and right single-piping pockets
With detachable tulle lining
Lined
Style ID:AW2311-BK
Made in Japan
Wearing Model Heigt175cm /Wearing Model Sizeモデルサイズ
Main fabric Wool98% , Cotton2%、Lining Cupra100%、Tulle Nylon100%
-Transparency
No transparency
-Thickness of fabric
Thick
<About Care>

Do not wash at home
Do not use chlorine bleach and oxygen bleach
Do not tumble dry

Can be ironed without steam with a bottom temperature of up to 110°C
Can be dry cleaned gently with petroleum solvents (use a laundry net)
Do not wet clean
PRODUCT MESUREMENTS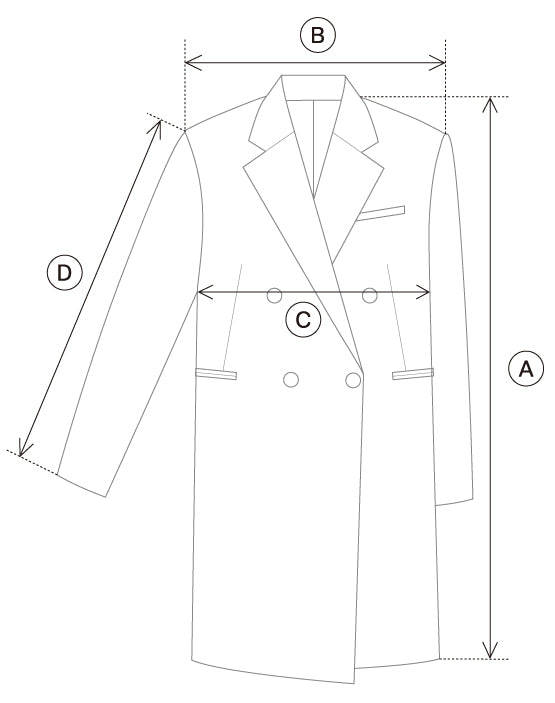 | | | | | |
| --- | --- | --- | --- | --- |
| | A | B | C | D |
| 1 | 83cm | 40.1cm | 59.3cm | 58cm |
| 2 | 84.5cm | 41.1cm | 60.8cm | 59cm |
SIZE CHART
| | | | | |
| --- | --- | --- | --- | --- |
| Size | 1 | 2 | 3 | 4 |
| Japan | Women S | Women M | Women L | Women XL |
| Inter | Women XS | Women S | Women M | Women L |
BLACK