入荷お知らせメールについてのご注意
当サービスはご購入を約束するものではありません。
お知らせメールにご登録いただいても生産の都合によりご登録の商品の販売が中止となる場合がございます。予めご了承ください。
Description
Details
Fabrics & Care
Size Guide
The asymmetrical cutting and soft form of this panel knit skirt give it a fresh look.

The knit skirt, created by combining AKIRANAKA's signature cutting technique with a seamless WHOLEGARMENT machine, not only expresses a structured form that tends to give a stiff impression with a soft texture and lightness, but also embodies modern couture developed from this season's theme, "coexistence of antiquity and futurism" and "purification of essence" found in the works of the Romanian sculptor Constantin Brancusi.
The approach of incorporating the essence of modernity as a contemporary technology from primitive methods of handwork has been sublimated as an expression of minimalism, which we have derived in our pursuit of the essence in fashion.

The skirt, knitted wool yarn with a fine texture and polyester yarn blended with moderate firmness, is tailored with a form created from precisely calculated pattern work, and the wearer can feel a new modernity in the smooth three-dimensionality expressed by the knitting.
The skirt, which beautifully draws the lines of the body, is made of knitwear, yet it is clothed in a luxurious air and the elegance of an adult woman.
In addition, the uniquely flowing asymmetrical panels produce a individualistic balance that is uniquely AKIRANAKA.
Slim fit
With elasticized waistband
Middle-length
Unlined
Style ID:AW2335-GR
Made in Japan
Wearing Model Heigt176cm /Wearing Model Size2
Body Wool77% , Polyester23%
-Transparency
No transparency
-Thickness of fabric
Slightly thick
<About Care>

Do not wash at home
Do not use chlorine bleach and oxygen bleach
Do not tumble dry

Can be ironed without steam with a bottom temperature of up to 110°C
Can be dry cleaned gently with petroleum solvents (use a laundry net)
Do not wet clean
PRODUCT MESUREMENTS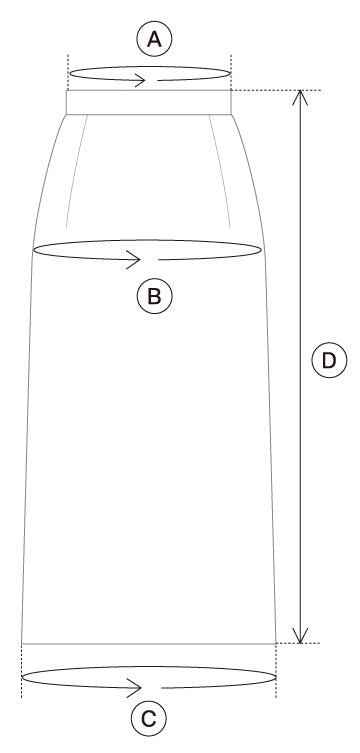 | | | | |
| --- | --- | --- | --- |
| | A | C | D |
| 1 | 64cm | 176cm | 77cm |
| 2 | 68cm | 180cm | 82cm |
SIZE CHART
| | | | | |
| --- | --- | --- | --- | --- |
| Size | 1 | 2 | 3 | 4 |
| Japan | Women S | Women M | Women L | Women XL |
| Inter | Women XS | Women S | Women M | Women L |
GREEN