入荷お知らせメールについてのご注意
当サービスはご購入を約束するものではありません。
お知らせメールにご登録いただいても生産の都合によりご登録の商品の販売が中止となる場合がございます。予めご了承ください。
Description
Details
Fabrics & Care
Size Guide
A jumbsuit with the wrap sleeves that continue from the collar to wrap around the arms lead to a new elegance.

The sleeves, created from an original perspective, were developed from this season's theme of "new values beyond ideas" and "embodiment of essence" found in the works of the Romanian sculptor Constantin Brancusi.
The wrap sleeve, created from a completely new approach of "sleeves leading from the collar," which remote from conventional clothing modeling principles, has a couture-like mood in its tailoring, with the sleeve peak tucked in at the tip of the collar.
The light georgette used for the material has a unique texture that creates a luxurious mood, while at the same time it has a beautiful fall that maintains a voluminous yet lean silhouette.

The wrap sleeves allow the air to be held in various movements, expressing the essential femininity that can be glimpsed in one's behavior as a new elegance.
Sleeve plackets and cufflinks, which are originally attached to the outside of the cuffs, are placed on the inside intentionally to create a subtle accent.

The attached belt of the same fabric not only sharpens the silhouette, but also invites the appearance of a sophisticated adult woman.
Relax fit
Two-layer sleeve design
Front center zipper opens and shuts
Waist strap available
Left and right box pockets
Long length
Lined
Style ID:AP2356-BK
Made in Japan
Wearing Model Heigt175cm /Wearing Model Sizeモデルサイズ
Main fabric Polyester100%、Facing Triacetate67%,Cupra17%,Polyester16%、Lining Cupra100%
-Transparency
No transparency
-Thickness of fabric
Normal
<About Care>

Do not wash at home
Do not use chlorine bleach and oxygen bleach
Do not tumble dry
Do not iron
Can be dry cleaned gently with petroleum solvents (use a laundry net)
Do not wet clean
PRODUCT MESUREMENTS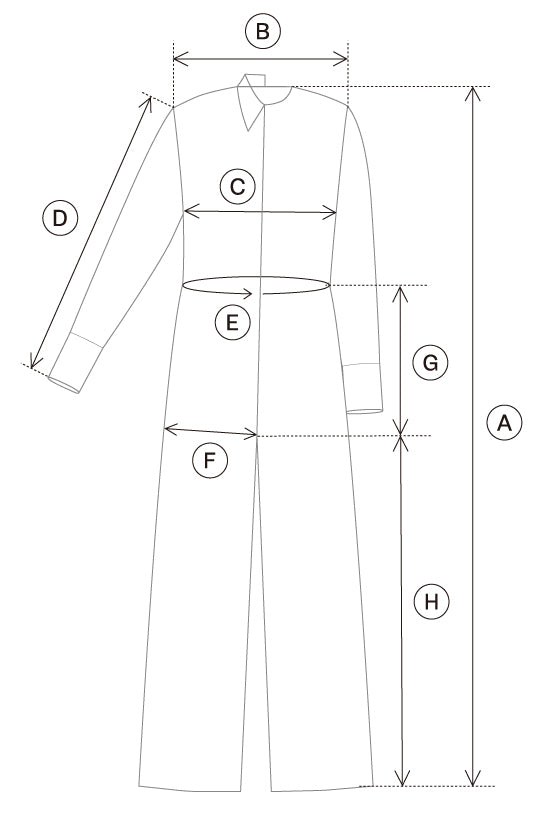 | | | | | | | | | |
| --- | --- | --- | --- | --- | --- | --- | --- | --- |
| | A | B | C | D | E | F | G | H |
| 1 | 140.5cm | 35cm | 94cm | 61cm | 91.2cm | 35.9cm | 38.5cm | 65.5cm |
| 2 | 143.2cm | 36cm | 97cm | 62cm | 94.2cm | 36.9cm | 39cm | 67cm |
SIZE CHART
| | | | | |
| --- | --- | --- | --- | --- |
| Size | 1 | 2 | 3 | 4 |
| Japan | Women S | Women M | Women L | Women XL |
| Inter | Women XS | Women S | Women M | Women L |
BLACK